Jim Nantz / Grant Hill / Bill Raftery // Tracy Wolfson:
I didn't really think Grant Hill was needed when they put this team together. Raftery is more than capable. I think CBS was reluctant to hire Bill for the A team based on his age, but he is definitely a fan favorite. Raftery, approaching 75, has not lost a step. Hill seemed shaky at first, but I think he is finding his way. Raftery will not last forever, sadly. CBS wanted someone they did not have to worry about after Greg Anthony was charged with soliciting a prostitute.
Hill provided them with a name, good reputation, and youth compared with other analysts. Raftery often praises Hill and sets him up well. It works. Nantz has been calling the title game for about 30 years. I kind of like him as a studio host (he did this years ago for football and basketball) because he's good with knowledge but doesn't really have a golden voice in my opinion.
Greg Gumbel holds things down in the studio these days. Nantz does a solid job. Gus Johnson isn't walking through that door. There is nothing we can do. Nantz finally got to call a Houston game during their conference tournament. In fact, two of them. He waited more than 30 years. Jim attended Houston, and Tracy's Wolverines knocked them out on a buzzer beater this past weekend.
Brian Anderson / Chris Webber // Lisa Byington:
Brian Anderson is an up and coming announcer. I was annoyed when they elevated him above Ian Eagle, but so be it. During his first March Madness tournament, he aggravated me by continuously pointing out that these games are win or go home. We know. We're not new to this. You are. I think he is great at baseball, and I'm glad that he now does the LCS on TBS over Ernie Johnson.
Chris Webber doesn't impress me. I don't think he is good doing NBA games. I'd like to see him do a Michigan game and have to talk about getting in trouble. Not that he would. Lisa Byington does not say the announcers' names when doing a report. Somebody else will thank Ian or whoever is throwing it over to them. I feel like she is afraid of saying the wrong name because she isn't used to these guys.
Kevin Harlan / Reggie Miller / Dan Bonner // Dana Jacobson:
Kevin Harlan has been doing the tournament for many years. I miss him on radio. He still does football on the radio, but used to call some basketball games there as well. Recently I was disappointed when he thought a travel had been called. The official was just signaling that there were substitutions but no timeout. That's a college thing. He should know that. I'm a hard marker.
Reggie Miller is okay. Not my favorite analyst, but I guess I'm just used to him. Dan Bonner is good. When these guys swoop in for the tournament, CBS wisely likes to mix in someone who knows the college game. Jacobson hasn't really bothered me too much. Sometimes that is the best thing you can say about a sideline reporter.
Ian Eagle / Jim Spanarkel // Allie LaForce:
This is an excellent team. Ian is one of the best. He finally gets to do the second weekend on television. We'll see what happens next year. Verne Lundquist could be returning after back surgery. I miss Verne. So many legendary calls. Spanarkel is terrific. He has chemistry with Ian because they worked together on Nets games. They were paired together longer than any other team until Greg Anthony was suspended. Raftery moved up, and Spanarkel joined Verne to replace Raftery.
This wasn't the first year Ian talked about how more tournament games have been played in Dayton than any other location. That is one of my few pet peeves with him. Many were played there years ago, but of course, there are four every year now. I don't even consider them tournament games. Allie played basketball. She knows what is going on, and isn't bad to look at either.
Spero Dedes / Steve Smith / Len Elmore // Ros-Gold-Onwude:
I have been bashing Spero for years. I'll leave it at that. I'm not a big Steve Smith fan, but at least we're not stuck with him saying BA all the time because he's not with Brian Anderson anymore. Len Elmore is the typical college guy who is there to educate the announcers who don't know much about these teams, although Spero has done some college games.
Back in 1992, Len called Duke-Kentucky with Verne Lundquist. Len tried to reference it, but said Louisville instead of Kentucky. That's not good. It was a classic game. You have to get that right. Ros is the best part of this team. She did a good job interviewing Sister Jean from Loyola-Chicago.
Brad Nessler / Steve Lavin // Evan Washburn:
Brad Nessler didn't seem to be overly enthusiastic. I'm still mad that he does SEC games now instead of Verne. The Dick Neer twitter account knocked his enthusiasm, so I felt vindicated. He had complained about doing four games in one day before the tournament started. Occasionally I would flip on Gary Cohen. He did it on radio. His call was the local Seton Hall broadcast, so it's a little different. Still, that was quite a contrast.
I liked Nessler years ago. They replaced Verne with another fairly old guy who has less energy. Lavin isn't terrible. He does studio work. I think he is probably better there. I'm not big on male sideline reporters. Evan took over for Jenny Dell on NFL broadcasts. I'm still holding a grudge.
Andrew Catalon / Steve Lappas / Jamie Erdahl: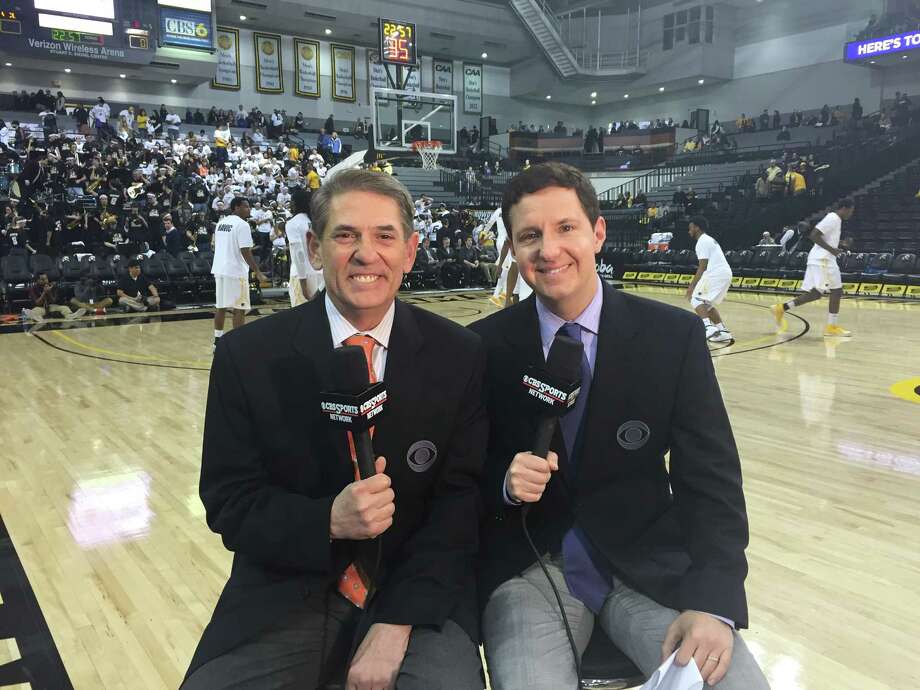 I like Catalon. He just tries too hard sometimes. Occasionally he'll yell a little too loud. Or late. It's like he realizes he's not quite excited enough or should put more into his call so it goes viral. I also noticed this when he was calling an NFL game. He's lucky. This is what I say about someone who does a good job. Others are not as fortunate. Catalon and Lappas are both local guys. I have heard them on WFAN. Lappas definitely knows his stuff, and I enjoy listening to him.
Jamie Erdahl works the sideline for this crew. She is one of the top NFL reporters. Erdahl works with Greg Gumbel and Trent Green on football broadcasts. However, she is only my second favorite Jamie from Minnesota. NHL and MLB host Jamie Hersch takes the cake.
Carter Blackburn / Debbie Antonelli // John Schriffen:
Great working with you @CarterCBS and the @CBSSports team 1st & 2nd round @marchmadness in San Diego! What a ride! pic.twitter.com/EBpIQObhtg

— Debbie Antonelli (@debbieantonelli) March 19, 2018
I have been listening to Blackburn for years. He does a good job calling basketball and football, but for some reason, it has not translated well into the tournament. His games are usually not great. I used to like Mike Gminski. Last year it seemed awkward when Antonelli was inserted into the crew.
Now it looks like CBS was just phasing out Gminski, who did not return this year. I have not seen enough of Schriffen to really make a judgment, but there are reasons this crew is ranked below all others.
The top four teams will work again the next couple days and this weekend. You know what they say during infomercials. But wait…there's more! I have other media thoughts. Expect an article very soon.