It's 2018 and *NSYNC is cool again. Yesterday, *NSYNC received a star of the Hollywood Walk of Fame and it took me down a rabbit hole for the boy band that once ruled the world. It's baffling to think that they are the fifth best selling boy band in history despite only releasing three albums (not counting Christmas and Greatest Hits). What's even crazier is how fast it happened. *NSYNC is listed as an official band from 1995 – 2002, but they really didn't get going until 1997. 5 years was all it took for Justin, JC, Lance, Joey, and Chris to become international superstars.
To honor *NSYNC and their star on the Walk of Fame, I went through their discography and put together my Top 5 songs. I'm sure this will start a lot of debates because to narrow it down to just 5 songs is very difficult. A good single is going to get left off the list. Here we go.
Super fun fact: For as successful as *NSYNC was, they only had ONE number one single in the US. You know what it was? Here's a meme hint.
5. Bye Bye Bye
Bye Bye Bye BYE BYE. If you ask a random person on the street to name a song from *NSYNC, "Bye Bye Bye" is going to be the most popular answer. From the catchy chorus to the dance, "Bye Bye Bye" brought people to their feet. If this comes on, you better believe I'm doing the "wave goodbye" at the end. Plus, the puppet master / No Strings Attached video for "Bye Bye Bye" is so iconic. I 100% should've been in a boy band.
4. "This I Promise You"
As I look through this discography, I find myself liking the slower ballads better than the faster pop anthems. To take it one step further, I compared *NSYNC's discography to the most successful boy band of all-time, the Backstreet Boys. Now I am BSB > *NSYNC, but once again, I'm going to take *NSYNC's ballads over the Backstreet Boys ballads. Don't kill me, BSB nation. The biggest winner in this song? Ugly turtleneck sweaters. Also, how was JC not as big as a star as JT? I'd argue that JC had a better voice than JT. Turns out JT agreed with me.
Huffington Post – Even Timberlake praised Chasez, telling MTV in 2006, "In my opinion, he had the best voice out of all of us. Out of all the boy bands, call 'em what you will, he was the one that could out-sing all of us." 
JC deserved better than America's Best Dance Crew.
3. "I Want You Back"
*NSYNC's first single happens to be one of my favorites. This is the song that got them on the map and the spark that ignited the fire. It's impossible to listen to this song and not move your neck back and forth like a background dancer. When I want…You…BACK. Also, watch this old performance of this song and focus on the choreography. I call this Chris Kirkpatrick's shining moment as he does the standing front flip.
2. "Merry Christmas, Happy Holidays"
One of the best Christmas songs to play at a bar. Here's the crazy part. It DOES NOT get enough airtime during the holidays. Everyone focuses on Mariah Carey's "All I Want For Christmas Is You," but "Merry Christmas, Happy Holidays" is just as good. Plus, how thoughtful of *NSYNC to cover their bases with the Happy Holidays since not everyone celebrates Christmas? Class acts.
1. "Tearin' Up My Heart"
This was an easy decision for me. "Tearin' Up My Heart" encompassed everything that I liked about *NSYNC. Catchy beat, great harmonies, and 90s boy band dancing. This was a rare time when JC started the song over Justin and it worked to perfection. Also, *NSYNC had the white tops look before the Backstreet Boys. Score one for *NSYNC.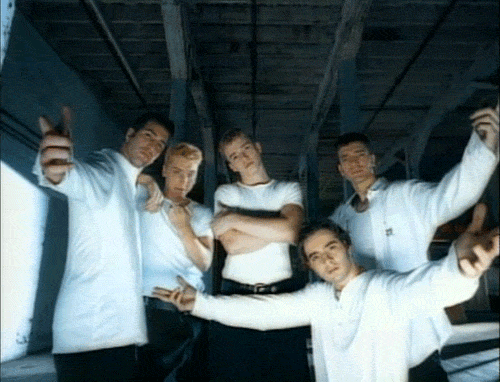 Alright, Internet. Let me have it. Do you agree or disagree with my rankings?