It's finally NBA Draft week and there is still much to be decided outside of the consensus No. 1, sending Arizona's transcendent center DeAndre Ayton to Phoenix, with some of the most turbulent franchises picking in the top 5.
A draft class that was once thought to be weak now has turned into another stacked group loaded with talent throughout the lottery. The 2018 class finds an excess of versatile big men at the top which could swing the league back from the small ball that's dominated in recent years.
Make sure to tune in when everything gets rolling on ESPN Thursday (June 20) at 7 PM EST. For now, check out our official lottery mock draft below. (Picks are subject to change as more information becomes available)
1. Phoenix Suns – DeAndre Ayton, Arizona
Ayton enjoyed a highly successful freshman campaign at Arizona, even though it ended with a first-round exit in the NCAA tournament. DeAndre is one of four freshmen in college basketball history to average more than 20 points and 11 rebounds in their first season. He joins some elite company alongside 2018 prospect Marvin Bagley, Michael Beasley and Kevin Durant. The 7-footer has the prototypical frame for the new-age athletic freak seen in the NBA. His game should project well at the next level with a soft touch around the basket and NBA 3-point range. All of a sudden, the Suns possess a solid core that could blossom if developed properly over the next few years.
2. Sacramento Kings – Marvin Bagley III, Duke
It's been rumored that the Kings are enamored with prospects such as Duke's Marvin Bagley and the polarizing Michael Porter. When something makes too much sense like selecting a Luka Doncic here, the Kings tend to go against the grain and pull off the unexpected. They should probably go B.P.A. with such a bare roster featuring not much to believe in beyond DeAaron Fox, but I guess you can't kill them for pairing a potential all-star big man with a backcourt of Fox and Hield.
3. Atlanta Hawks – Luka Doncic, Real Madrid
Atlanta is another team that can go in just about every direction. If this scenario plays out, I can't see ATL passing on a talent like Doncic, who experts are saying has potential to be the best player out of the bunch when we look back in five years. John Collins was a solid pick in the first round for the Hawks in 2017, let's see them make it two hits in a row. Admittedly, I haven't watched a ton of Doncic, but he seems to be in the distributor mold of a Hedo Turkoglu and Manu Ginobili. He probably best translates as a shooting guard and needs to improve his stroke from downtown and penetrating ability to be most effective.
4. Memphis Grizzlies – Jaren Jackson, Michigan State – *TRADE* Marc Gasol to the Lakers for Kuzma, Josh Hart, Luol Deng, and 2020 First Rounder
Memphis is in an odd situation here as a team that could bottom out or go for the post-season again as they're tied into a core of Gasol, Conley and unfortunately Parsons for another two seasons. I could see them dealing Gasol to a star-hungry team like the Lakers on draft night and slide their neophyte center in to replace Marc.
Don't panic Grizz nation, this isn't Hasheem Thabeet 2.0 as Jackson maintains way less bust potential. Jaren has a lot of skills that can translate to the NBA and even boasted the top box plus/minus in the country out of all freshman this season. At only 18-years-old, the versatile athlete can be an impact player on both ends at the Grind House.
5. Dallas Mavericks – Mo Bamba, Texas
One of my favorite prospects in this entire draft, Bamba immediately comes in to anchor a defense and can be an elite rim runner. He's recently been boasting more of an ability to step out and extend his range as a jump shooter to the three-point line, which is a scary proposition for someone boasting this kind of length. The Mavs should be thrilled to roll the dice with a talent like Bamba at 5. The team isn't committed to any contract besides Dennis Smith after next season. The pair should provide an elite pick and roll combination.
Mo Bamba is shooting 3's now 👀🔥 pic.twitter.com/GZuvG81IbT

— Hoops Provider (@HoopsProvider) June 10, 2018
6. Orlando Magic – Michael Porter Jr., Missouri
This is really where the draft begins. I'm confident the previously named prospects will be the first five names called off the board next Thursday. Porter has been linked in a range from the top 3 to the bottom of the lottery. A lot of this hinges teams' medical staffs to sign off on the possible selection. As part of his vamped up workout regiment, back spasms and a hip strain initially thought he would have to cancel another workout. It's no secret Orlando would love to select a guard. This may be too high for Trae Young, who may very well end up being the pick. For now, let's say everything checks out for Porter. He could be too talented a prospect to pass up on.
7. Chicago Bulls – Wendell Carter, Duke
Chicago is actually in a great spot cap-wise going forward after a bunch of contracts come off the books following this season. With a core of Dunn, Lavine, Valentine, and Markkanen already intact, an all-around big alongside Lauri makes perfect sense for the Bulls. Carter can come in and give Chicago one of the most versatile young front lines in basketball, with something Chi-town residents can be proud of every night. There are some experts that believe Carter could end up being a better pro than his college teammate Marvin Bagley.
8. Cleveland Cavaliers – Trae Young, Oklahoma
The Cavaliers will still be in LeBron purgatory when they make their selection come draft night. Do they deal the pick for a proven veteran in hopes to retain LBJ? I believe they need to take the best player available and prepare for post-LeBron life, who has until June 29 to decide if he will opt-in to his player option for 2018. Trae Young is another polarizing prospect and the splashiest pick Cleveland can make at No. 8. The Cavs are starved for scoring and an influx of youth at PG with just George Hill and Jordan Clarkson on the roster. The unprecedented shooter is worth a roll of the dice at this point.
9. New York Knicks – Mikal Bridges, Villanova
The Knicks could go a multitude of directions here. There have been rumors of possibly trading up with the Grizzlies while taking on Chandler Parsons' disastrous contract along with the No. 4 pick. I believe the Knicks will hone in on a wing here which is a huge position of need. I love what I saw out of Bridges this year, even though he's years older than Kevin Knox out of Kentucky. Mikal comes into the league with a higher floor than most. Three and D players are thriving in the league and he fits the bill with great length and shooting ability. He's also a versatile fit at the four alongside Zinger in our small ball lineups for the future.
*Other Viable Options: Kevin Knox, Lonnie Walker, Collin Sexton*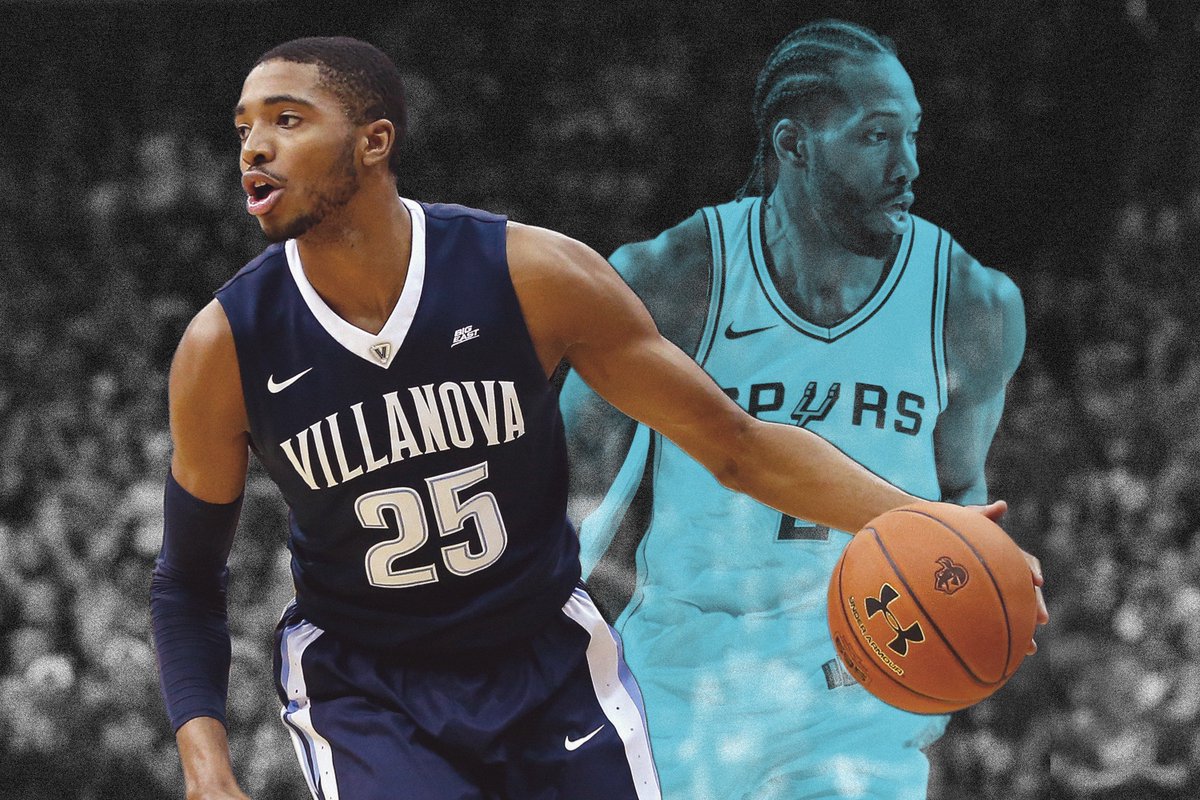 10. Philadelphia 76ers – Kevin Knox, Kentucky
Philly is in a great spot with the 10th pick which they receive courtesy of the Lakers. Some believe they could package this pick along with a Fultz/Saric for a proved veteran and still have cap room to bring in another star in free agency. If the Sixers stay put, they should take the highest player on their board. Kevin Knox is still just 18-years-old and could be the type of polished scorer that can put the ball in from just about anywhere on the floor. Knox is raw but boasts great potential and size if it all comes together in a few years, just make sure to be patient. He could end up being a Tobias Harris type of player.
11. Charlotte Hornets – Collin Sexton, Alabama
Sexton was one of the most exciting players to watch in basketball this year, willing his Alabama team to an NCAA Tournament appearance. Collin's a fearless finisher around the rim and plays much bigger than his 6'2″ frame. His jump shot (33% from 3pt) and defense should get more consistent throughout his career. I believe the only thing that will hold him back from stardom is his playmaking ability (3.6 assists/g) for others on the floor. The 19-year-old will be a blessing for the Hornets as their heir-apparent to Charlotte staple Kemba Walker, who enters the final year of his contract. Sign me up for a Sexton-Monk backcourt.
12. Los Angeles Clippers – Lonnie Walker IV, Miami
Lonnie Walker is a name that has picked up serious steam in the pre-draft process and has seen his stock vault into the lottery. I'm not going to sit here and tell you I watched a bunch of Miami basketball so I won't even waste your time as far as the type of player he could potentially fill out to be. The Clippers boast back-to-back picks so they could package one or both for either a veteran or move up to get the player of their choice. With really nobody on their payroll past next season, LAC should take the best player available.
13. Los Angeles Clippers – Miles Bridges, Michigan State
Miles Bridges is a player that was a sure-fire lock to go in the top 10 if he decided to enter the draft last year. He came back for his sophomore season and underperformed much like the Michigan State team as a whole. Bridges was oddly played out of position all season at shooting guard when he should've been down low at the four alongside Jaren Jackson. Miles settled for too many jumpers and his numbers were just similar and maybe a bit worse than his freshman campaign outside of his much-improved shooting at the charity stripe. This is a great situation for him to enter in Los Angeles.
14. Denver Nuggets – Shai Gilgeous-Alexander, Kentucky
The Nuggets came within a game of the post-season when they fell short with a loss on the last day of the regular season to the Minnesota Timberwolves for the right to clinch the 8th seed. Denver still ended up with a successful 46-win campaign. The Nuggets are set with a core of Jokic and Milsap down low with Harris and Jamal Murray in the backcourt. They could either go with a small forward or playmaking lead guard here. I have them taking Shai Gilgeous-Alexander, who made serious strides over the course of the year under Calipari, showcasing aptitude as a facilitator (5.1 assists/g). He also causes match up problems at 6'6″ and with a nearly 7-foot wingspan.