I mean, I GUESS that was impressive…
Male, female, human, alien, wildebeest, etc. Whoever you are, that was fucking nuts. The amount of athleticism there was insane. I struggle when it comes to doing 1 pullup so I can't even imagine the upperbody strength here. Apparently, Jessie Graff is a stunt woman on Supergirl so it makes sense that she is a freak athlete. Maybe Graff should just become the new Supergirl after that performance.
I pose a simple question: Could you do what Graff just did if you were to train for 3 months? The answer: NO. There's no way in hell I could do this. I get a pain in my neck if I move it side to side too quickly. Do you think I could hold myself on logs and swing on ropes over water? Definitely not. Upperbody strength is one thing I lack (sorry, ladies). So you won't see me on any American Ninja Obstacle Courses any time soon. How about we just let the modern day Tomb Raider beat up the boys on the course, shall we?
This obstacle was not in the video, but there is NO SHOT I could do this if you gave me 100 tries. Throw $1 million at me and I couldn't even advance up one rung. Once again, sorry ladies.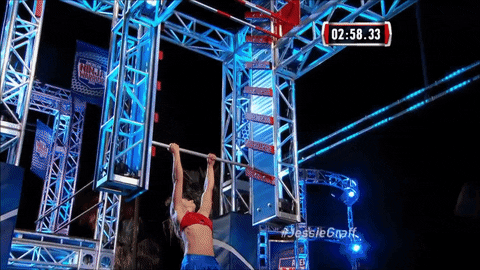 Credit: Giphy