New York Post – So you're saying there's a chance?
In the wake of WFAN morning co-host Craig Carton's arrest and subsequent suspension last week, Mike Francesa, who is set to leave the station after 30 years when his contract expires Dec. 15, has told station management he is at least willing to discuss postponing that move.
"The only thing I said is that … I would not turn my back on the company if I thought it was in trouble," Francesa told The Post in a phone conversation Tuesday. "That's something that had to play out in the weeks and months ahead. And I don't really know if it is [in trouble], so I don't know if that's going to mean anything. "Has this changed things? It has created some conversations. I don't know that it has changed anything. I would say my gut feeling is no, but I would say that it has at least created conversations that weren't there before."
NO MORE FAN…Until they ask me to help save the station and in that case, IM BAK.
What a wild, wild couple of days for WFAN. This all started when Craig Carton was arrested for a ticket fraud / ponzi scheme last week. That was a absolute BOMBSHELL. I'll save my opinion on Carton because there's nothing really to say anymore. He messed up and now has to pay and deal with all the consequences of his actions. I just feel so bad for his family and Boomer.
So fast forward to this story the other day . Mike said "I would not turn my back on the company if I thought it was in trouble." Michael, the company is in trouble. YOUR station is in trouble. I love Boomer but unless they get a huge name to pair with him in the morning, his ratings are going to take a dip. It is truly a shame too because Boomer & Carton were just ranked first in the winter ratings for men in NY for their time slot. With Carton resigning just last night (NO surprise there), it is now officially Boomer's Morning Show.
Logistically speaking, your two most important time slots for a radio station are your morning drive and your afternoon drive. Boomer & Carton and Mike Francesa were always at the top of the ratings especially Mike, who going back to his days with Mad Dog, has dominated the for over two decades. NUMBAH ONE. Now, time for common sense. You cannot go through two major changes at the same time for the morning show and the afternoon show. It just can't happen. You're sacrificing so much by doing that – advertising dollars, ratings, etc. Going through one transition is hard enough, but two at the same time? That just can't happen and you know what, I think Mike knows that.
This is exactly why I think Mike Francesa is going to stay at least one more year at WFAN. He has to give WFAN time for Boomer's morning show to grow / improve / adjust. I also think the bigger elephant in the room to address is Mike's replacement. In my opinion. there is no clear candidate as of now. No one truly stood out from the rest. I know they'll cut Mike's time in half and I'm almost positive Joe & Evan will take one of those slots, but the second one? Your guess is as good as mine. Carton's troubles are not a blessing in disguise because of the ramifications for his family, but it bought the station more time to figure out an official replacement for Mike.
Oh, did I mention why Mike will come back besides saving the station?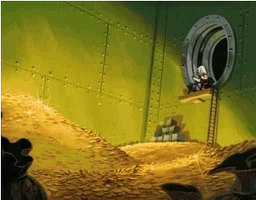 The checkbook is now open at WFAN. I know it's probably not entirely about money with Mike, but more money helps for sure. So if I'm Mike, on December 15, I'm giving a Wolf of Wall Street Speech. IM NOT LEAVING!!!THE SHOW GOES ON!! THIS IS MY HOME!
P.S. Who would've ever thought that Mike would outlast Carton at WFAN? I'll say it again. Wild stuff, folks.