The Lakers hoisted the Larry O'Brien Trophy less than six weeks ago, the NBA Draft is less than 48 hours away and its November, the season is getting ready to tip off in just over a month, but at this point it is par for the course when it comes to 2020.
The 2020 draft class has garnered a middling reputation, but will be stronger as the round goes on with solid depth. With a ton of unpredictability at the top, there's still no consensus No. 1 overall pick as the time continues to tick on Minnesota. We've already seen a ton of wheeling and dealing in the league, which doubles as an Academy Award-winning drama when the off-season rolls around.
Luckily for you, Brandon "Coach T" Trager and LordTreeSap are here to walk you through the entire lottery for Wednesday's NBA Draft. Take a look at our predictions and keep it locked on the Daily Mix Report for draft coverage from LTS, while Trager lives the life of luxury in the green room with Obi Toppin.
1. Minnesota Timberwolves
Coach T: LaMelo Ball, Australia
The most mysterious, yes unmysterious, tantalizing prospect of the draft. If you're a hoops fan, we all remember what seems like yesterday a young freshman LaMelo pullin' up from half court in video clips gone viral. Fast forward a few years, LaMelo is a 6'7″ do-it-all PG. I am beyond happy LaVar has shut his mouth and just let his boys have a normal professional career. It was funny at first, but it got old pretty quick.
However, I will give him credit, he said LaMelo would go No. 1, and be the best of the three Ball brothers. He's made a lot of promises that have yet to come true, but it's amazing that some of them have. In a draft with no certain No. 1 pick, LaMelo may have the best upside with his size and playmaking ability. Just like big bro Lonzo, he looks to make everyone around him better. I'm not sure how the Ball – Russell Dynamic will look, but if he pans out, a two-guard backcourt alongside KAT doesn't sound too shabby. I see the Wolves going Ball here.
LordTreeSap: Anthony Edwards, Georgia
Anthony Edwards has been billed as the top prospect for months now, so I don't think the Wolves will ultimately pass up on the opportunity to pair him with D'Angelo Russell for an explosive back court and potential big three forming with Karl-Anthony Towns. During his best moments, AE looks like a young James Harden without the elite court vision, but a bulldog going to the rim just like the school he reps.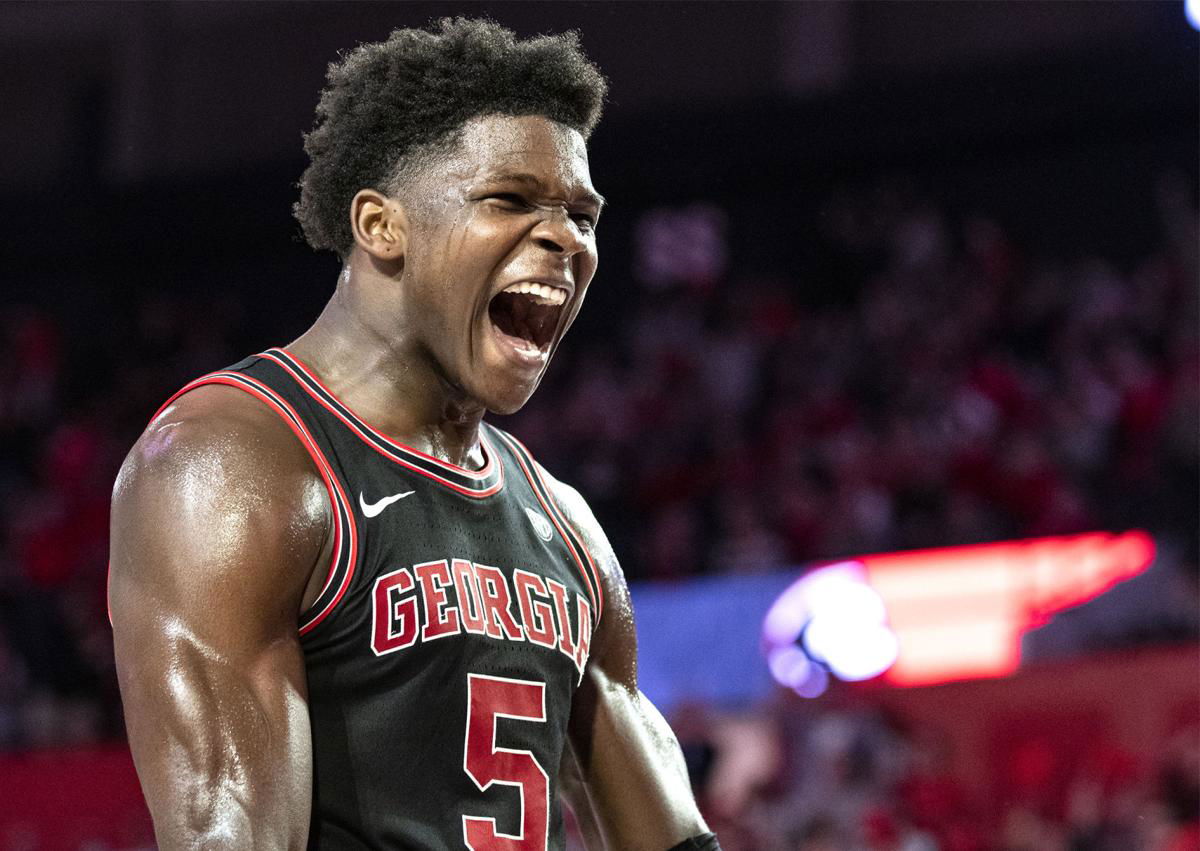 2. Golden State Warriors
Coach T: James Wiseman, Memphis
Let me rant quick then I'll stop, WHY DO THE WARRIORS NEED TO GET REWARDED AT 2!? Yeah, it stinks their two studs were essentially out for the season, but the NBA Gods hand them the No. 2 pick, when the Knicks can't catch a break. Ok I'm done. The Warriors need a big, and Wiseman offers the best upside. 7+ footer, incredibly athletic, and will eventually step out and shoot, he may be the gem of this draft. Steph, Klay, Wiggins, Green, Wiseman, yeah, the Western Conference forgot about the Warriors. Here we go…
LordTreeSap: James Wiseman, Memphis
This is the layup of the draft. GSW has played it coy as a contender picking at the top of the draft who would probably prefer to flip the pick and assets for a third star alongside the Splash Brothers. If that doesn't come to fruition, the athletic rim-running Wiseman gives the Dubs another weapon at their disposal and an inside presence they've lacked.
3. Charlotte Hornets
Coach T: Anthony Edwards, Georgia
If Edwards slips to three, there's no way the Hornets can pass up on him. If you look at this dude in a uniform, you may think he's been in the NBA for 3-4 years. Explosive wing who can get to the rim and shoot the ball. He has that slasher wing in him looking like a young D-Wade at times. MJ may make up for all of his failed drafts with this pick here. Look for the Hornets to go with my favorite player in this year's draft, Anthony Edwards.
LordTreeSap: Onyeka Okongwu, USC
We never know what Michael Jordan and the Hornets are going to pull when it comes to drafting, we just usually know it's going to be the wrong decision. Onyeka has soared up draft boards as a versatile big in the mold of Bam Adebayo and everyone saw how valuable he was inside the bubble on Miami's Finals run.
4. Chicago Bulls
Coach T: Deni Avdija, Israel
These European dudes are so hit and miss, but I feel like these have been more hits than misses of late. Basketball has really stepped up its game overseas, and you're seeing the product translate to the NBA. Avdija is a strong 2-way player who is very experienced and has played against supreme talent.
The Bulls have a young roster, and he should fit in nicely next to Lavine, Markkanen, Carter, and some of the other Bulls young talent. I think anyone who passed up on (or traded) some guy named Luka would tell you they regret not honoring his dominance overseas. Look for the Bulls to continue to grow their young roster under new coach Billy Donovan with Deni Avdija.
LordTreeSap: LaMelo Ball, Australia
LaMelo Ball, the most polarizing prospect in this draft. You ask five different "experts" about his career trajectory and you'll probably get five different answers. The final Ball brother has a good chance to be the best of the bunch with the way Lonzo has stumbled out of the gate. Chicago didn't extend a qualifying offer to Kris Dunn, so a ball handler spot opens up alongside sniper Coby White to form the backcourt of the future. I'm still trying to figure out why Billy Donovan took this job though.
5. Cleveland Cavaliers
Coach T: Obi Toppin, Dayton
This next player is special because I had the opportunity to be a part of his path to the NBA coaching both him and his younger brother Jacob (University of Kentucky). Obi has grown from a 6'1″ high school senior, to a 6'9″ rim-running monster. The reigning National Player of the Year may be the most "NBA ready" prospect. He is incredibly athletic, savvy in the post, and can step out and shoot the 3. He is a prototypical NBA Big.
He needs to improve his perimeter defense/lateral quickness and continue to get stronger. However, he is going to be a consistent NBA player with a long career. From knowing Obi personally, he's one of the most likable, humble people you'll ever meet, and everyone who comes across him loves him. Being he played for Dayton in Ohio, I don't see him slipping past six. I don't love this spot for him, because this is probably my least favorite team picking in the top 10. However, look for Obi to make an immediate impact wherever he goes.
LordTreeSap: Deni Avdija, Israel
I'm not going to act like I've watched Deni Avdija play a full game of basketball, but he's been on the NBA's radar for some time. Checking out his skillset, I could easily see a Danilo Gallinari type of career coming his way, which would be a win for Cleveland.
6. Atlanta Hawks
Coach T: Isaac Okoro, Auburn
Full disclosure, I hope Okoro doesn't get picked here, because I want the Knicks to draft him. Anyway, let's pair up the talented young hawks with an athletic versatile 2-way wing. Okoro plays hard and will be an elite NBA defender. If he can develop a jump shot, he'll end up being the highly coveted "3 and D" stud that every NBA team is looking for. Young, Okoro, Collins and co. sounds like a nice young core to me.
LordTreeSap: Obi Toppin, Dayton
Coach T put Obi on my radar a couple years ago and he's played his way into a bona fide top 10 pick in that time. Although he's already 22-years-old, Toppin is a sure-fire fit at the four in the NBA with great athleticism and a capable jumper.
I still feel bad for his Dayton Flyers season being cut short; who knows when they'll be a potential one-seed again? Atlanta could use Toppin if rumors flying are true that they plan to test the market on John Collins if the two sides can't agree on a fair extension.
7. Detroit Pistons
Coach T: Patrick Williams, Florida State
Williams seems to be fling up draft boards as a modern NBA big. 6'8″, versatile defender who can shoot the three. The Pistons are in the midst of a rebuild and Williams may be able to learn a thing or two from Blake Griffin, who has had trouble staying on the court.
LordTreeSap: Isaac Okoro, Auburn
Okoro will be a great fit and culture changer for Detroit on the wing for a barren roster that needs a lot of help. A tenacious defender, and if his jumper comes along, he'll be the type of versatile defense-first wing that just about every team is starving for. We just saw the Trail Blazers pay two firsts for Robert Covington this week. This pick might finally right the wrong of selecting Stanley Johnson in 2015, who I really liked coming out of Arizona.
8. New York Knicks
Coach T: Tyrese Haliburton, Iowa State
I can't invest myself emotionally into the Knicks. It's a yearly heartbreak that I can't handle. We kill ourselves, and seemingly find no luck on our side. Mini-rant over. Let's go with Tyrese Haliburton here, a nice combo guard who is a nice playmaker and can shoot the basketball. He plays hard and I think would be a great fit next to RJ Barrett, and in NY in general.
The Knicks have DESPERATELY needed someone to step in and man the PG position. They have a solid foundational core, and a point guard to help accelerate the rebuild would be huge. Pair Tyrese with RJ Barrett, and Mitchell Robinson, the Knicks two best prospects, and we may be headed in the right direction (at least I have to say that).
LordTreeSap: Tyrese Haliburton, Iowa State
Coach T and I are on the same page here. The Knicks have been searching for a point guard to power the offense since Stephon Marbury ate Vaseline on a live stream. Haliburton has won me over as a sound decision maker, explosive enough to get to and finish at the rim, and still nail his funky jumper. Sign me up to see if Tyrese can finally fill the lead guard void that has plagued us for eons.
9. Wizards
Coach T: Onyeka Okungwu, USC
Considered by some to be the best true "big man" in this draft, he is already an excellent defender and rim protector. With a healthy John Wall and Bradley Beal this year, the wizards should be an improved team. Look for them to improve their front court with Onyeka.
LordTreeSap: Patrick Williams, Florida State
When early mocks were coming out, I kept seeing Vassell as the top FSU prospect, but P-Will has shot up draft boards in recent months to become the top Seminole available. Williams is oozing with potential as a gritty, do-it-all forward on the floor who makes the right play. Boasting a nearly seven-foot wingspan and still being 18-years-old always helps as well.
10. Phoenix Suns
Coach T: Devin Vassell, Florida State
Okay Suns, no pressure. You have one of the best young talents in the league in Devin Booker who reportedly wants out. Don't screw this up. Vassell is another one of those potential 3 and D players you can surround Booker with in order to help the Suns be successful. They have some nice young talent with Ayton. Add Vassell to the fold and see what happens.
LordTreeSap: Killian Hayes, France
Another very intriguing prospect who opted for the professional overseas route. My good friend at The Ringer Kevin O'Connor has Hayes as the top player on his big board and he should be in consideration for the Knicks as well. The push in his jump shot does scare me a bit, but he can create and has good size. What a situation this would be to walk into and learn behind Chris Paul as Phoenix makes a push for the post-season.
11. San Antonio Spurs
Coach T: Saddiq Bey, Villanova
Who knows who the Spurs will pick, but whoever they pick, will make an impact at some point, like they ALWAYS do. Bey comes from a great program in Villanova and is a nice complimentary player. He's 6'8″ and is highly versatile on the floor. I'm sure Pop will find a creative way to make the most out of him.
LordTreeSap: Devin Vassell, Florida State
I'm always looking for 3-and-D players in the draft. Just inject them into my veins — every good team needs them to surround stars with shot making and doing the dirty work defensively. Vassell fits that mold and should be a nice fit with the Spurs. Two FSU Seminoles in the top 11 gives me a chance to just remind the people coach Lenny Hamilton has never made a Final Four.
12. Sacramento Kings
Coach T: R.J. Hampton, New Zealand
In my opinion, this is one of the most interesting players in the draft. One of the most highly rated prospects coming out of high school, Hampton took the Ball route playing overseas this past year. Hampton didn't get to showcase much of his talent, but he sure has a lot of it. He's raw, but if he develops, he won't have many flaws in his game. He'd be a nice piece next to Fox as a 1-2 punch.
LordTreeSap: Aaron Nesmith, Vanderbilt
With the Kings moving on from Bogdanovic and Buddy Hield wanting out, Sacramento needs to find another two-guard/wing to supplement their losses and give Fox some help. Enter Vanderbilt's Nesmith, who is the best shooter in the draft and should be a sniper in the NBA.
13. New Orleans Pelicans
Coach T: Aaron Nesmith, Vanderbilt
SVG! Great young core that should start to make waves soon. Let's go with Nesmith here, who is one of the best shooters in the draft and would fit nicely next to Ball, Ingram, and Zion. Pelicans like to push the pace (whether SVG will want to or not) and this would be a great spot for him stretching the floor for Ingram and Zion to operate inside.
LordTreeSap: Kira Lewis Jr., Alabama
Goodbye Jrue Holiday, hello Kira Lewis Jr. I debated Kentucky's Maxey here as well, but the speedster out of 'Bama heads to the NOP. The Pelicans are in a great spot and add their potential point guard of the future here, who plays with reckless abandon when attacking the cup, if they decide to move on from Lonzo Ball.
14. Boston Celtics
Coach T: Killian Hayes, France
There's a good chance he won't be available here, but it'd be a nice pick here for the Celtics. He could play behind the likes of Kemba Walker, develop, and potentially be a long-term replacement down the road for Boston.
LordTreeSap: Jalen Smith, Maryland
Anyone that watched Boston knows they need help down low. Jalen Smith was a beast at Maryland. Anytime I watched him play Michigan he seemed to be a lock for a double-double and addicted to cleaning the glass. He could get away with being a smaller five if he bulks up a bit because he's already a strong defender with a nonstop motor.