Sunday night gave the quarantined world two more fantastic hours of Chicago Bulls entertainment, and I don't know where to start. I'm not even sure what the beginning is, as we continue to bounce around. Still my top complaint, but I digress.
It seems like even more topics were buzzing around social media after this weekend's episodes. Scott Burrell gets embarrassed (destroyed) by Michael Jordan, and his wife tweets about it. Jerry Krause dancing on the plane will not be forgotten anytime soon. However, Carmelo Anthony's contribution will be. His big addition was remembering that Dennis Rodman one time talked about a regular season game against Washington and how there was no incentive for him to play. This is what he'll never forget from the Chicago dynasty. It was quite the head-scratcher.
One more complaint before I move on. They chose to skip over some things. There is mention of being on to New York after defeating Cleveland, but no highlights are shown from that series. Joe Benigno actually thanked ESPN for skipping that. As a Knicks fan, Joe wasn't interested in seeing that series. Somebody apparently didn't believe it was important, and I am okay with the decision. One can only imagine what was left on the cutting room floor.
I really couldn't understand why they chose not to show Jordan scoring with seconds remaining in game 3 to force overtime against the Lakers. It was a big moment for MJ and his teammates in their first NBA Finals. Also, we see highlights of Chicago blowing a lead in Utah. There were no highlights of these teams playing in January. That was the marquee game. Super Bowl Sunday on NBC. Bob Costas called the game before flying to California for the football game, but I'm getting off topic. Utah won in Chicago. It was a rematch of the 1997 NBA Finals. Utah was apparently hungrier after losing in June.
We only get a brief comment about the Jazz sweeping both regular season games after they complete that February comeback. Ironically, there is footage on the plane after Jordan wins money on Denver's win against Green Bay. As I described, the Super Bowl took place just hours after Chicago's home loss to Utah.
Getting back to Rodman, he was featured in one of the episodes. Saying that he was troubled is an understatement. We see that in the early 90s he drove to the Palace of Auburn Hills parking lot with a gun. You don't see many athletes kick a cameraman in the groin. Rodman often talks about how he doesn't care what people think. That's exactly what someone says when they care a lot. Dennis himself has talked about wanting to be loved. Partying with Carmen Electra in Vegas certainly got plenty of attention. Although I can't really condone that, it would have been one thing if Dennis was all business other than the 48 hours away. Well, we know it was longer than that. Still, perhaps this could be overlooked if there were no other incidents.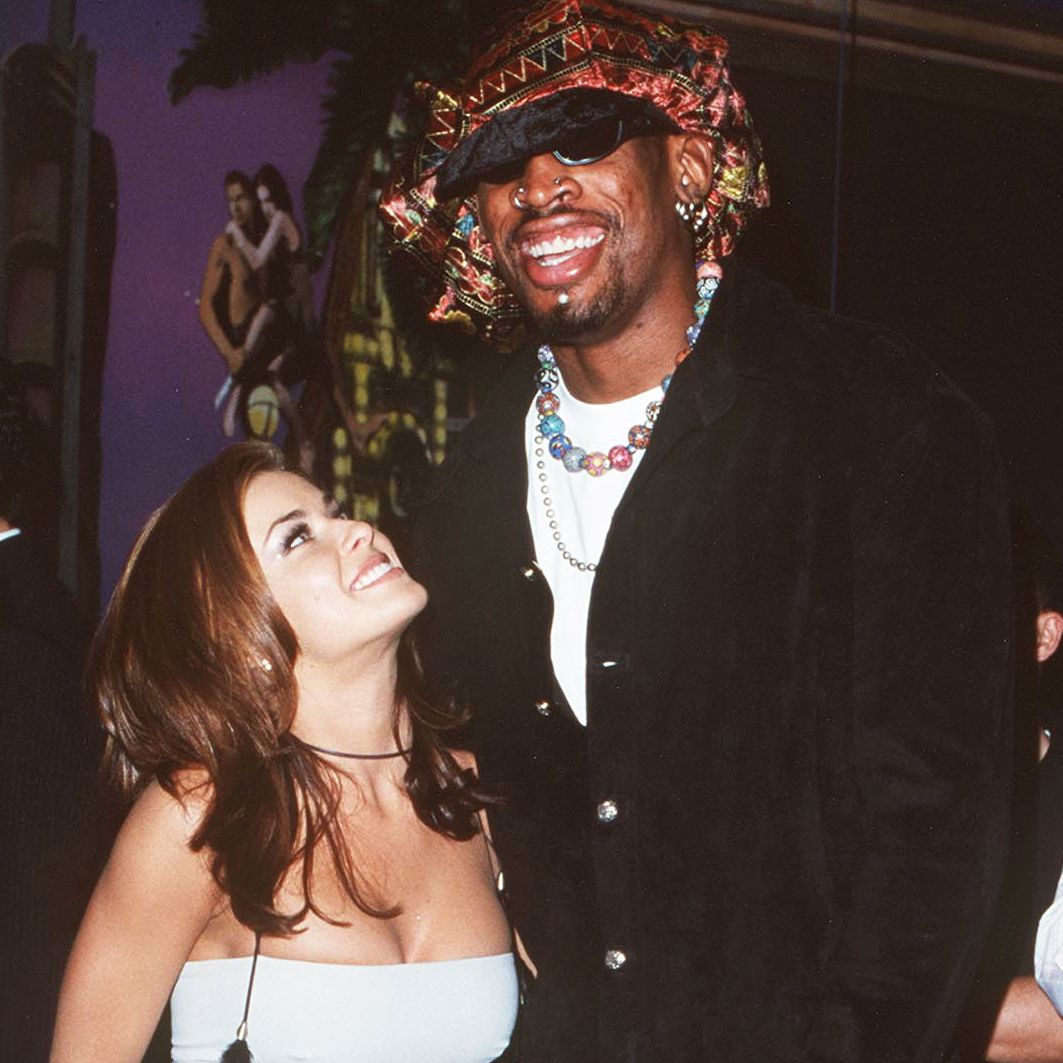 Rodman claims that he was never a bad teammate and he could be counted on. It's always something with him. That story Melo mentioned is another example of how Dennis didn't always have his heart in the right place. I don't care if he ran fast in practice. This guy was like the total opposite of Allen Iverson. Inconsistent when it came to games, but boy would he give 100 percent during practice. Rodman was a distraction for San Antonio. Chicago could overcome his flaws with Jordan. Yes, he helped at times. I can't ignore the negative.
When Pippen returned, Dennis didn't feel important. I think his salary included games when other people were playing. You assume that Rodman knew about Scottie being on the team when his contract was signed. Even if Pippen was out when the season started. Rodman gets away with far too much, and enjoys playing the victim. One of his many flaws is not being able to apologize or take blame. Apparently, asking MJ for an extra cigar was his way of apologizing for getting kicked out. I would think he should be buying cigars to apologize, but Dennis took one instead. Definitely seems like a strange apology. Maybe it's just me. Pistons coach Chuck Daly was very close to Dennis. I remember him coming out when Rodman was a guest on Oprah Winfrey's show.
Ron Harper was very upset that Lenny Wilkens wanted Craig Ehlo to guard Jordan before Michael's famous shot in Cleveland to win the deciding game. He makes this quite clear in the documentary. I remember watching those exciting final 6 seconds live. Seems like yesterday. It was actually more than 30 years ago. Amazingly, that classic Bulls game was not nationally televised. Part of the country saw game 1 between Seattle and the Lakers. Luckily, that game ended first. Dick Stockton welcomes the other audience in time to catch a very dramatic finish. As for Ehlo, he was not interviewed Sunday. Perhaps it was his choice.
I had always heard that Jordan was responsible for Doug Collins getting fired. Apparently that was not the case. I wondered why Jordan would bring Collins to Washington when he was part-owner if they didn't like each other. Phil Jackson wanted Chicago to play more of a team game, and taking the ball out of Michael's hand didn't really appeal to MJ at first. Jackson replaced Collins in 1989 after Detroit defeated the Bulls in 6.
Since we saw Chicago's championship in 1991, I wonder how much time will be spent on the 1992 Knicks. They defeated Detroit and took Chicago to 7. Only the 92 Knicks and 98 Pacers took the Bulls to a seventh game during their title runs. The Knicks were another group of bad boys. Pat Riley didn't have his Lakers squad in New York, so he molded a team with physical players that was quite similar to Detroit.
Hearing about the Pistons brought back memories of those Knicks-Bulls games. I can specifically recall one time in particular when Jordan went streaking toward the basket but decided to pull up for a shot. His choice was described as a wise decision. So, it will be interesting to see if any of this comes up. Horace Grant is teased to be part of next week's lineup. He will be an important character down the road. Should be another great Sunday night.